The CLUB IS MOVING!
We have a new software program to enhance our Club,
use the link below for more details!
The best way to build your Horse Speak skills!

Only $30 per month for 12+ hours of instruction, personal feedback on your videos, discounts on webinars and courses, video library of instructional sessions and more!
Membership benefits include:
Tuesday Club Meetings, 1-2:30 and 7-8:30 pm Eastern Time
Includes weekly skill building session with Sharon and Laura
Explore videos and questions submitted by club members from all over the world
All sessions recorded and posted for later viewing/reviewing
Feedback and coaching on your personal videos and questions
Submit a 2 minute video or question for review, diagnosis, interpretation and coaching in a Tuesday Club meeting
You do not need to be present to be included – the session will be recorded
Weekly Q & A with Sharon and Laura
Each meeting includes a Q & A session with Sharon and Laura
Members Only Facebook Group
Share your journey with a group of like-minded horsepeople.
Discounts on all Horse Speak webinars and online courses
Learn at your own pace, stay inspired, get help and more!
Best Online Club Ever! I just saw the recording of last week, it was very helpful for me and it seems like I am rapidly becoming your No. 1 Club fan ;-). But kidding aside, I really like your concept, as it combines so many great things to motivate people to learn and grow! — B.K., Germany
Best Part of My Week! "The Horse Speak Club is the best part of my week. I look forward to the videos, especially in slow-mo with Sharon's live commentary. Besides being fun and entertaining the club is full of practical info. Sharon's ability to copy horse's expressions and mimic their mannerisms is a hoot to watch but it's her gift for teaching and her seemingly endless knowledge that make the two hours a joy. The club is a weekly reminder of why I love Horse Speak. Its been well worth the reasonable monthly price. " — Heidi W. Massachusetts

Your Instructor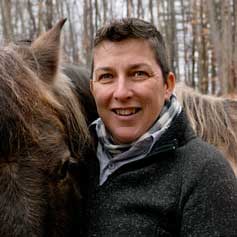 Sharon Wilsie is an inspiring and encouraging teacher. Whether you are learning with Sharon in person at a clinic or in one of our on-line courses, you will enjoy the learning process as much as you will love the results you get using Horse Speak with your horses!
Sharon is a has enjoyed a professional career as a horse trainer/rehabilitation specialist, intercollegiate coach, and riding instructor. Her grandfather owned and raced Standardbreds, and her love for horses has been life-long. She has developed and implemented several programs over the last decade, including; volunteer training groups for horse rescues and therapeutic riding centers, Equine Assisted Learning course at Landmark College, as well as hundreds of workshops, seminars, and engagements in a variety of topics about Equine Facilitated Therapies, alternative training and rehabilitation methods for difficult horses and horses with PTSD. She worked with students of all ages, including at-risk youth programs. Sharon's passion has always been to create a two – way street of mutual healing, awareness, and betterment for both horses and people. Sharon is also a Reiki Master/Teacher.
For more information about Horse Speak Clinics and Events, visit www.sharonwilsie.com
Frequently Asked Questions
What if I am unhappy with the club?
We would never want you to be unhappy! You can cancel your membership at any time.
I can't make the live session on Tuesdays!
All sessions are recorded and posted in the course for later viewing and/or reviewing. You won't miss anything!
Do I have to be present to have my video used in a session?
No - you do not have to present in the live session for your video to be used. Simply sign up for a video slot, submit your video by the deadline and sign into the course after the session to learn from Sharon's analysis and interpretation of your video.